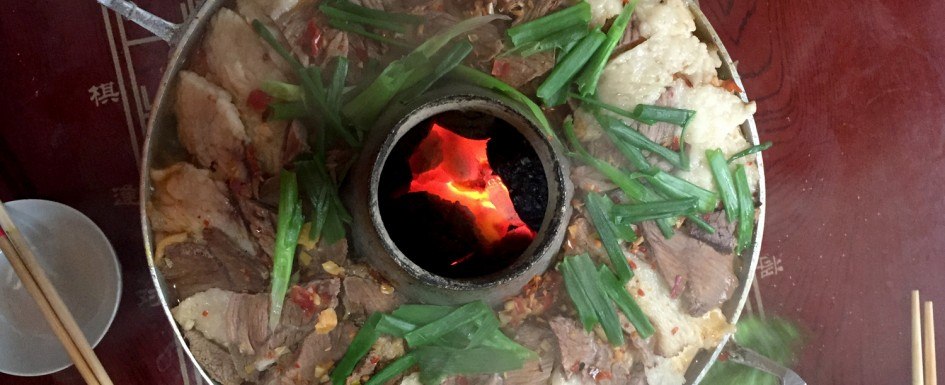 We know that traveling to unknown places can be difficult and sometimes intimidating for visitors. Knowing where to eat can make all the difference. Our hope is to help you navigate your stay in Songpan by providing these dining suggestions. As managers of Adventure Access, we've lived (seasonally) and worked in Songpan over the past few years so we've tried everything.
Local Options
Breakfast: 5-10 RMB per person
If you would like to try a local breakfast, we would recommend some of our favorites below. The best place that we have found is just a few shops up from Lao Si (see the directions below). There are 3 shops selling identical items with red 'lanterny' looking signs above them. The one we like the most is the furthest from Lao Si and closest to Emma's. It is run by two sisters.
Carrot Stuffed Bread 萝卜包子 – Luobo Baozi
Sweetened Soy Milk 豆浆 – Dou Jiang
Unsweetened Doughnut Sticks 油条 – You Tiao
Lunch and Dinner:
Lao Si Restaurant 老四饭店 Lao Si Fan Dian – 20-38 RMB per dish
Laosi is a Chinese term that is spoken in reference to the fourth born in a lineup of children within a family. This restaurant is owned and operated by a man who is laosi. It is a great name for this place because it is a family run establishment.
It is my staff's favorite place to eat locally, and we spend a lot of time in Songpan so we would know. Some of our clients have even told us that it's been their favorite eatery in all of their China travels. If you are craving good flavor and lots of veggie options, this is your best bet in town. Some of the dishes we love are:
Tomato and Beef 番茄牛肉 – Fan Qie Niu Rou – made with a vinegar sauce
'Toothpick' Beef 牙签牛肉 – Ya Qian Niu Rou – thin pieces of beef dry fried with cumin and pepper (it's a bit spicy) and put on toothpicks for easy eating
Breaded Eggplant Wedges 茄子并 – Qie Zi Bing – stuffed with minced meat and covered in sweet and sour sauce
Sauteed Broccoli 西蓝花 – Xi Lan Hua –  (hard to find this dish elsewhere in Sichuan),
Sweet and Sour Beef Loin 糖醋里脊 – Tang Cu Li Ji – This is a favorite for foreign travelers in China, but at Laosi it is made with beef rather than pork
Sichuan Dry-fried Green Beans 干煸四季豆 – Gan Bian Si Ji Dou
Sweet and Sour Eggplant 鱼香茄子 – Yu Xiang Qie Zi – get this if you don't have the budget for the eggplant wedges.
Note: Although the dishes may seem a little pricy, most of the food must be brought in from further south due to the difficulty of growing vegetables in Songpan's higher altitude. We promise- the price is worth it!
Directions: Facing away from the large statue at the North Gate, walk straight ahead on the main road. Just 4-5 shops past the intersection on the right side, you will see a large sign that reads "老四饭店."
Pickled Veggies and Beef Noodle Soup 酸菜面快 Suan Cai Mian Kuai– 11-13 RMB each
This dish is one of the truly 'local' specialties in Songpan. It is famous for its sour and spicy flavor, which comes from the pickled veggies which flavor the broth. This particular combination of flavors is hard to find many places in China. The broth is packed with potato wedges, slices of beef, and lots of the pickled veggies. It makes for a hearty treat on a cold day or after a hike. You can order it with the original broth or with non-spicy broth (清汤qing tang) and in small (小 xiao) or large (大 da) sizes.
Although this dish is advertised at lots of shops, the absolute BEST place to get it is at a shop named after the dish.
Directions: From the North Gate of the old city (by the statue), walk South to the large intersection and turn right. Walk until you see a large wooden gate on your left that says 清真街 (Muslim Street). Turn under the gate and walk straight past 4 or 5 buildings until you see the sign for 酸菜面快 above the door on your right. It is a large, unpretentious shop with glass windows and it is usually fairly full at meal times.
Local Hot Pot 土火锅 Tu Huo Guo – 200-300 RMB for a pot that feeds 10+ people
We were a little late in discovering this amazing meal, but now we eat it whenever we can. Although Sichuan is famous for its hot pot and broth-cooked items, this local hot pot is truly unique. It is cooked in an old-fashioned gold pot which is heated internally with coal. Several kinds of vegetables are layered inside of the pot and then covered with a layer of smoked tofu and prime pieces of beef. Soup is poured over the ingredients and it is cooked until tender.
There are several places to eat this delicacy and you can ask someone at your hostel to direct you. Our favorite is served out of a tea garden with lots of flowers near Emma's Guesthouse. The boss's phone number is 189-9043-4802. However, they do not speak English, so you will need someone to help you to call and make an appointment as well as direct you to their location.
SongZhou 'First Cow' Hotpot- 松洲第一牛– 200-300 RMB for a pot that feeds 10+ people
This hot pot place is more similar to others you will find in Sichuan, however, the flavor of their broth made of yak bones is truly mouth-watering and you can order special cuts of yak to put in the broth. They also have more ingredients for your dipping sauce than other places.
Directions: From the North Gate of the old city, walk South to the intersection and turn left. Walk all the way to the East Gate and turn right on the street there. At that intersection, you should see the sign for '第一牛' just ahead of you on the second floor.
Other options around town:
Meat and Veggies Cooked in a Clay Pot 沙锅 (ask for non-spicy soup 清汤)- 13 RMB
Meat and Veggies Cooked in Broth and Served Over Rice (you can select your meat and veggies from a buffet) 冒菜 (ask for non-spicy soup 清汤)- 15-20 RMB
Muslim Noodles 西北/兰州拉面 – Lanzhou La Mian – 15-25 RMB (they also have fried rice or dishes over rice). We highly recommend the place just beside Laosi in the direction of the North Gate.
There are several of these type of restaurants located in Songpan. Just ask someone to point one out to you.
Snacks:
We like the stand located at the first right turn after Amdo Coffee House in the old city.
Mutton Kebabs 羊肉串 – Yang Rou 'Chuar' ,
Beef Kebab 牦牛肉串 'Mao Niu Rou 'Chuar' ask for 'shao kao'
Yak Yogurt 草原的酸奶 – Hong Yuan Suan Nai,
Local Yak Jerky 当地牦牛肉干 – mao niu rou gan
Western Options and Coffee
If you need a break from noodles and rice, try some of our favorites at local Western hang-outs.
Emma's Restaurant- 18-70 RMB
Emma's is a longterm establishment in Songpan. Emma and her brother David are a great resource for local information. They also have a guesthouse located not far from the cafe.
Recommended Options:
Beef Burrito (really a fajita)- lots of meat and veggies
Curry Fried Rice- if you are looking for a cheaper option with a different flavor, try this Indian-spiced fried rice for only 18 RMB.
Also try their Yak Pizza or Yak Burger for a little local twist on old favorites.
Directions: Walk straight from the North Gate out of the old city and down the main street toward the bus station. Emma's Restaurant is about a 5 minute walk on the right next to the Happy Trails Horse-Trekking company and the great Tibetan massage shop.
0837
Best Choices: We think their pizza is the best in town. While not large, it can feed 2 people and costs about 10 RMB less than other places. It is packed full of veggies and your choice of beef or chicken. The manager makes it herself and uses fresh spices to boot.
The rest of their menu is limited, but the atmosphere is fun for hanging out and they have lots of light. The coffee is not bad and they have fresh juices.
Directions: Go out the East Gate of the old city and cross the river. You should see a large sign on the 2nd floor of their building saying '0837.'
Amdo Coffee House Inn
The food menu at this coffee house is not extensive- they serve only mediocre noodles and dumplings as well as ready-made tiramisu and desserts. HOWEVER, their coffee is the best in town. The boss is an official barista and has experience working at internationally recognized coffee shops. Try their Americano for the lowest priced coffee in town, or their creamy cappuccino. This is our go-to for a pick-me up at the end of a long day. Enjoy the unique atmosphere of this modern Tibetan-styled cafe' while drinking your cup of joe.  This is the most authentic coffee shop in town.