Did you know 1 out of 10 jobs globally are in the tourism industry, an industry devastated by the pandemic. Adventure travel has a way of bridging gaps between people. Whether we are bridging gaps between ourselves and family members as we put the screens away and take in the great outdoors or we find ourselves making a leap to understand a new place and a new culture, Adventure travel is powerful. And we believe the combination of Tibet and Adventure Travel makes an even deeper impression. Real adventure changes you! 
We long for the day we travel again with you all in the mountains across the roof of the world. Until then, we need your help. We want to support guides and communities who have suffered the losses generated by this pandemic. Let's climb this mountain together. 
Introducing Everesting
Have you heard of Everesting? That is what we want to do. We want people to log a collective 29,032′ of elevation gain through walking, hiking, stair machines, the stairs in their house or office, etc. We will be learning about Everest's history and culture through virtual learning throughout the event. 
The goal is to get people physically active and raise money for restoring communities and Adventure travel in regions of the world that have been severely impacted by a year with no travel (with another year to go).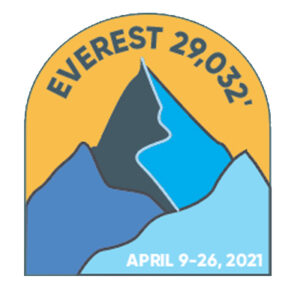 How Everesting Works
We want people to gain "elevation" sponsors for their physical goals during the event. Elevation sponsors will donate a certain amount for each foot of elevation gain you accomplish.
Example: Let's say someone in Louisiana goes on a 3 mile run or walk. Choose a "hilly" place and you may be able to gain between 100-300 feet of elevation gain during your activity. Apps like Garmin or Strava are good to see what your elevation gain is. 
If your sponsors total 50 cents per foot of elevation gain and you do this all three weekends of the Everest 29,032' with a weekend average of 200 feet of elevation gain then you will have collected $300 to help us make a difference in tourism recovery in the Himalayas. (And who thought word problems were just for elementary school?!?)
Our goal is to raise at least 50 cents per foot. If we all work together we can raise at least $14,516 to help meet the needs of this amazing region of the world. The more we gain, the more we can accomplish together! 
We are going to be tracking everyone's progress through weekly reports (super easy polling sent right to your inbox each Monday). When the event is over, collect your funds and send them our way. We will keep you informed as the year progresses and we have opportunities to give back to the communities that have the power to transform us. 
We will be posting videos about the history and culture of the region. It will be fun and informative for all ages. 
As we collectively reach benchmark altitude levels such as 16,900 ft (North Face Base Camp), 20,800 ft (Advance Base Camp), 23,000 ft (North Col), and so on…we will be posting videos teaching about the history of climbing on the world's highest mountain. 
Everesting Registration Information
Registration for the event is $25 per person. We want to support our families with a 15% discount for households with 4 or more registrants. Each registered participant will receive:
A t-shirt

A sticker

Instructions and tips for gaining elevation sponsors

A log sheet

A weekly link for turning in elevation totals.
Take it up a notch and register an expedition team. Teams of 4 can compete against other registered teams for prizes to be awarded to the team with the most elevation gained. Team registration is $120. Why does it cost more than the standard entry? Because there is more to be gained (prizes for the winning team and more stickers to go around for the expedition teams). We will post a leaderboard so everyone can keep up with the fun throughout the event weeks. Team packets will be sent to one location so choose a team you can get together with!
How to Register?
Registration is simple and easy.

Click on tickets and follow the instructions to complete your registration. 

Once we have all your details, we will send a digital packet to assist you as you gain sponsors and prepare for your goals. Shirts and other items will be shipped toward the end of the event to allow for post registration printing and shipping.