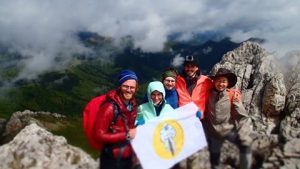 Recently we've had a lot going on here at Adventure Access: opening a new office, developing new areas for adventure tours, and taking people on trips. One of our interns just spent three weeks in Songpan. He had the privilege to take people backpacking and mountain biking. As a company this is where we thrive. As you scroll through our website you'll see that our founder Brian has a passion for the outdoors and getting others in the outdoors as well. It was from this passion that Adventure Access was born.
Two weeks ago we took a group of Germans up Zhaga Shan – a local 14,000ft+ mountain equivalent to 4200 meters. Before the trip our clients were unsure about their personal ability because the route is intimidating. It was exciting to see them overcome their unease and summit the mountain.
It was an honor to bring people to such a beautiful place, and honestly by the end of the trip the group of three felt more like friends than clients. As one of our co-workers always says, "I'm thankful that these people have taken a tour with us, as it allows us to be in such a beautiful place as well." If it were not for all the adventurers of this world, our company would not exist.
It is our vision at Adventure Access "to provide the best, high-quality adventure tours and outdoor experiences in Western China." It is this vision that fuels our excitement to get out more. Join us by signing up for a tour, getting outside on your own, or simply liking us by following our blog, Weibo, Instagram and Facebook. If you have been on a tour with us, make sure to leave a comment on Wikitravel or Tripadvisor and let us know what you thought of your experience.