The Tibetan Plateau, though known as the Roof of the World, can be enjoyed by people of all ages, abilities, and skill levels. You don't have to join an expedition to the summit of Everest to experience the plateau. Opportunities are as varied as the environment on the Plateau. There is a full range of activities available and a carefully chosen adventure operator can provide the right experience.
The average altitude of the Tibetan Plateau is over 14,800ft (4,500m) and it is hemmed in by peaks like K2, Everest, Minya Konka, and Xuebaoding. It is no surprise that many find this part of the world intimidating at first glance. But the plateau is not just towering peaks with formidable environmental surroundings. Not everywhere requires extreme abilities and mountaineering skills.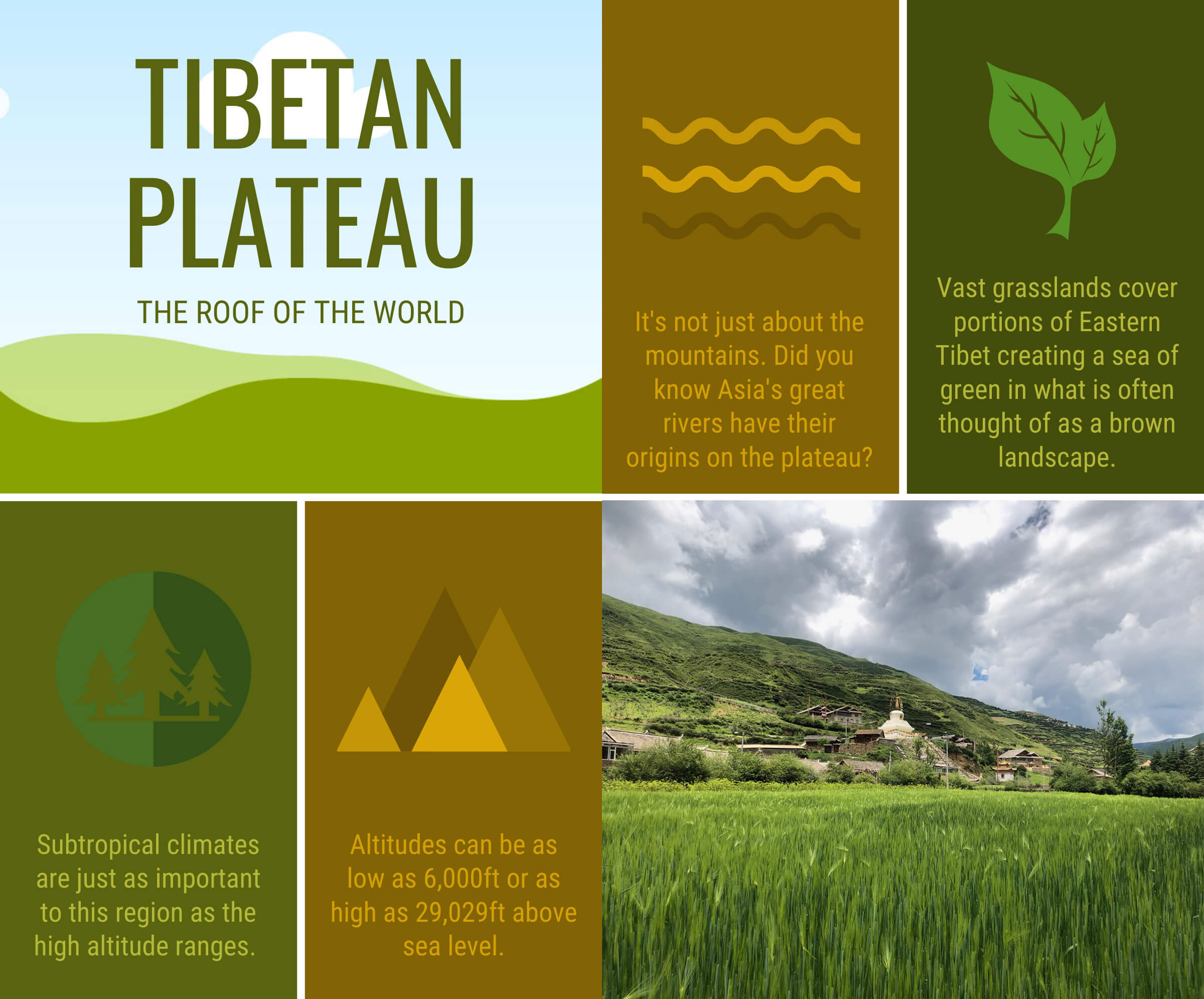 Many Eastern Tibetan towns in Sichuan and Gansu are between 9,000ft and 11,000ft above sea level (2743m-3352m). They are more comfortable surroundings which allow for more manageable acclimatization and open more options for those who are not looking for the extreme.
In order to choose the right destination, how do you begin?
Start with your key desire for adventure travel. Do you value one of adventure travel's key elements more than another? For example, is nature more important that culture to you? What about activity? How does it rank in your goals for the trip you have in mind? Adventure travel is defined as nature + activity + culture. They are all important but not equally so to all travelers.
Another consideration is this…do you have a specific destination item that is important to you. If seeing Mt. Everest is important or seeing Labrang Monastery is of interest, then that will impact how you plan your itinerary.
In order to choose the appropriate challenge, how can you assess your own skill level?
Start with your own experience. If considering a hike or a mountain bike ride, think about what you've done before. What kind of trails have you already done? What was the intensity of the experience? How many hours did you spend on that trail? Were you comfortable throughout the experience or did it push you? If it did push you, was it an acceptable level that encouraged growth or did it push you beyond what you were capable of, leaving you with a bad experience and fear of trying it again.
Some good things you can communicate to your adventure operator in advance:
How many hours a day you are comfortable participating in the chosen activity
What experience you already have with the chosen activity
What you hope to achieve by participating in the activity this time around
Any challenges you had when previously participating in a similar activity
Any medical or physical challenges you may have that will be important to know
What if you are traveling as a group or as a family?
It is important to discuss your expectations as a group before setting out. If you have competing agendas prior to the start of the tour, you are likely to have a bad experience. Guides are going to look after the safety of each individual and the group as a whole so his or her decisions will apply to everyone.
How does Adventure Access rate their experiences?
We rate all of our experiences along the following criteria (the lowest rating is 1 and the greatest rating in any category is 4):
Nature – This includes features like notable mountain peaks, waterfalls, lakes or a combination of these within a designated national park.
Activity – This indicates how active the activity will be. Not all activity is equally challenging. The difference between our "Activity" rating and a "Skill/Challenge" rating is this: Activity is a general description and Skill/Challenge is specific to one's abilities or skills required to complete the activity.
Culture – This includes opportunities for cultural observation within a site like a monastery or temple and cultural immersion such as a meal in a local's home.
So, how do you evaluate the Skill/Challenge ranking on each of our activities?
Skill – This relates to skills required to complete an activity. For example, mountain biking skills to ride an intermediate or advanced trail or rope skills to rappel down a rock face.
Challenge – This relates to the stamina or endurance to complete an activity. Many hikes do not require skills, but some may require an ability to hike for 8 hours in a day at high altitudes. Because of the altitude of the Tibetan Plateau, it is very important to consider the challenge of an activity.
Let's look at two examples:

The 3 Day/2 Night Mount Xuebaoding Trek ranks 3 out of 4 on the activity scale. It does not require any specific skills so it says "none" on the skill category. It indicates a "medium-high" on the challenge scale because of high altitudes encountered over the course of time. If you are in good physical condition and are prepared to walk long distances each day with a moderate to heavy pack on, then you are all set to go!
The 7 Day/6 Night experience is ranked as a low skill level. It still doesn't require much, but there is something to be said about hiking for 7 days straight so some experience with hiking is preferred. This is still a low skill ranking but we would not suggest that someone who has never been hiking before begin with 7 days on the Tibetan Plateau. It has a "high" ranking on the challenge scale because it reaches altitudes greater than 14,000ft (4267m) for multiple days in a row.
Everyone is welcome!
We've been welcoming all types of adventures over the years. We have had beginners, experts, and everything between. Sometimes they join together on one experience at their own choosing because part of adventuring is the community that we find along the way. Whether you are ascending to new heights or are looking for a relaxing family escape from the city, there is something for you! Contact us to begin working with one of our adventure specialists today.