We recently led a day hike to Shangniba Monastery in Songpan County. This is a great way to experience Songpan for a day, especially if your time is limited.
Starting at our Songpan Branch Office, we headed out of the old town via the North Gate where we spent some time talking about the history of one of Tibet's most famous kings, Songsten Gampo, and one of his brides, the Chinese Princess Wen Cheng.
From there, we headedthrough the Muslim quarter of Songpan and up through some of the village area on the edge of town before heading up the trail that ascends the mountain east of Songpan. It is a 5 km hike over the ridge to Shangniba Village. This Tibetan village spreads up and down the valley that runs parallel to Songpan on the East side of the mountain. After arriving in Shangniba, we walked through the clusters of homes up to the monastery.  Once in the monastery, we spent time taking photos and explaining Tibetan Buddhist culture and customs.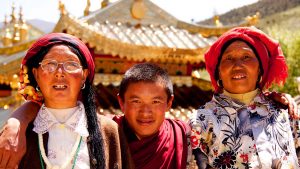 After leaving the monastery, it was a simple return hike back to Songpan! All in all, we hiked about 15km. It is a great trek for just about anyone who is up for touring on your feet. Songpan has so much to offer. Stay a while so you can see it. You can see more details below!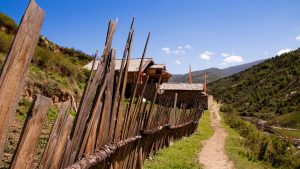 General Itinerary: Aproximately 5-6 hours
Depart Songpan Old Town and hike over the mountain to nearby Shangniba Village : 5 km
Hike through Shangniba Village and around Shangniba Monastery: 5 km
Return from Shangniba Village to Songpan Old Town: 5 km
Plan your own trip with us in Songpan! Our staff is present in Songpan from June through August. Stop by or you can Contact us now!