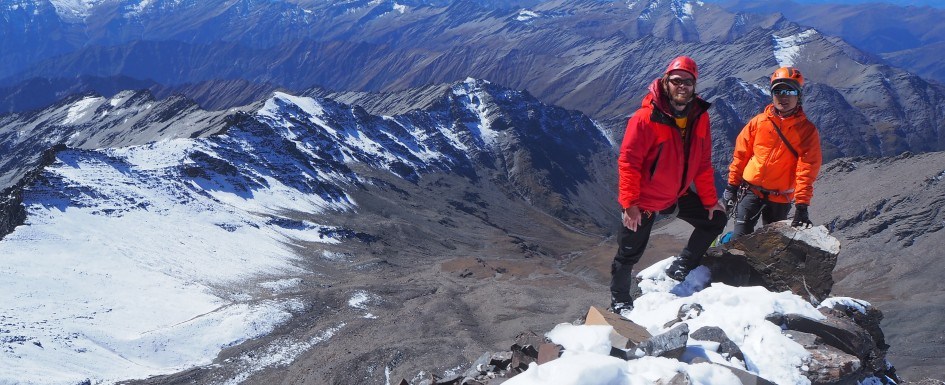 A week ago two employees at Adventure Access set off from Chengdu to climb Xiao Xue Bao Ding, the sister mountain or as it's called in Tibetan, 'the wife' of Xue Bao Ding. Xue Bao Ding is the eastern most mountain in the Himalayas. It sits at an elevation of 18,333 feet (5588m). Xiao Xue Bao Ding is just below at an elevation of 17,900 feet (5455m). The nearest village is called Shang La Mi.
From the onset, the trip was going to be a challenge. This season has been affected by regular land slides in Maoxian County between Chengdu and Songpan, making transportation very difficult. Eventually the two made it through to Songpan. They spent the night and in the morning drove to Shang La Mi. The hike to Xiao Xue Bao Ding began around 11:30am on day 2.
Slowly the two trekked up a beautiful river valley with high peaks in the distance. The day included 10 miles of hiking and an elevation gain of 3,000 feet. They slept at 14,200 feet; higher than Mount Rainier in Washington, USA. After some conversation the two decided to shoot for the summit in the morning. This meant waking up at 3 am and climbing another 3,000 feet.
After a rough night's sleep, the two woke and prepared to set off for the climb. They hiked a substantial 3 hours in darkness with only a head lamp and the light of a crescent moon and sky full of stars. By dawn the two had made it to the source of a large snow field that leads to the summit. Tired, they took a quick break to snack and put on crampons.
After making it over the first section of the snow field, the two got a better look at what the last 1,000 feet of climbing would require. By late November, fresh snow fall makes this particular snow field very difficult to cross. In addition to the depth of the snow, it is also about a 75 degree incline. Due to time and fatigue the two decided to take a prominent but rocky ridge that wasn't as steep. After hiking to the top of the ridge, the reality of reaching the summit seemed unlikely. After much contemplation the two turned back less then 500 feet from the summit and trekked 15 miles back to camp.
In summation, the two hiked 25 miles, climbed 6,500 feet in elevation, and made it to 17,500 feet (5,335m). Trips like these are a part of the Adventure Access story. Whether attempting to climb a big peak or exploring the Tibetan countryside on mountain bike, we are always seeking out adventure and preparing to making these adventures possible for others!